Back to blog
Ready for Crisis? Or who is to choose when cutting costs
July 2, 2022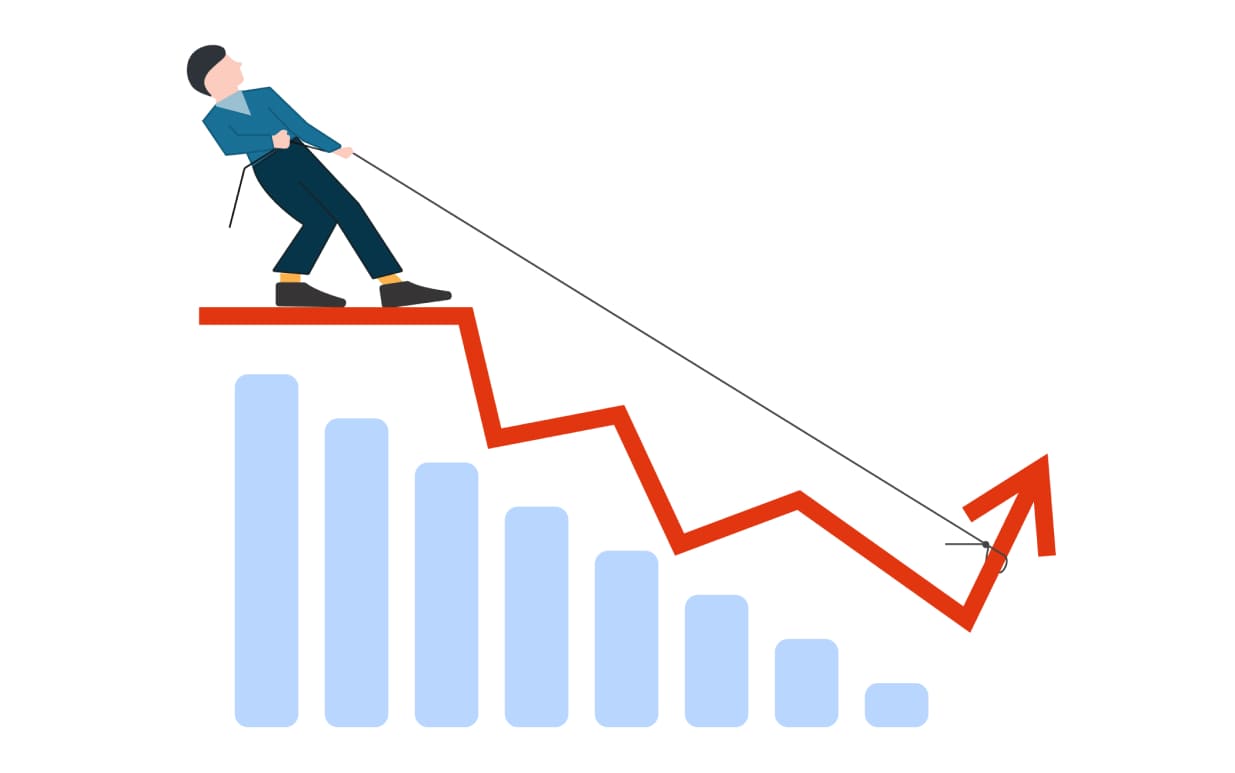 The good times are over. The crisis has recently become a new norm for Ukrainian businesses and the world's economy as well. As soon as the world learned to live with the pandemic, the war came to Ukraine. It provokes an increase in food and fuel prices around the world. The US and Europe are raising interest rates in response to the commodity shock to temper inflation. This crisis is so deep and atypical for the entire world. As there are no ready-made solutions, we all learn the hard way.
According to Sequoia, the venture giant, known for its investments in tech titans such as Apple and Google, shared a presentation on May 16 where it warned of a tricky moment of uncertainty for the venture market due to inflation, the market and geopolitical issues. The venture market has already shown some softness, dropping quarter to quarter for the first time in Q1 2022. Added to the drop in the market are the ongoing problems with inflation, interest rates and geopolitical issues that have made venture dollars harder to come by.
In times of crisis, it is meaningful to quickly understand your competitive advantages and work with customers as a service provider and a partner to help solve business needs.
So how do you keep people working and maintain the economy in these challenging times? At first sight, it would seem a difficult question, but everything is a lot easier.
Looking for developers to launch your project is a complex task. You find a contractor with the proper skill level who can hear your requirements and make a competitive product that will solve your problem. The decision to outsource some of your work to third-party vendors requires a lot of thought. There are many reasons why companies decide to use IT outsourcing, but the most significant thing is to choose what benefits it will bring specifically to your business. You can outsource almost any function.
Now we often hear that entrepreneurs, small business owners and startups are asking such questions: is it worth starting something at all, and how? Is it worth the risk and outsourcing to Ukrainian developers? You will immediately ask why hiring a Ukrainian programmer is better than a developer from the US, for example, who will be a bit more expensive, but in your staff? Everything is simple here. As a rule, the US programmer needs much more time for the same work, which the Ukrainian developer will do faster, and its price will be lower.
Most likely, if the US programmer is perfect, he/she generally has to be experienced in just one thing. And building the entire app alone can be faced with a lot of issues. It is difficult and unprofessional. It is like building a house yourself, which is quite possible, but a professional roofer, for example, will make a roof better than a tiler and vice versa. Therefore, everyone should mind their own business.
Nevertheless, considering everything that is happening in the world, you can suppose that it is still risky to hire people from Ukraine, although it saves the budget well in such difficult times. Is it enough for you that there are many skilled specialists in Ukraine, that these programmers have one of the best technical education in the world, that they are hard-working, and that they have extensive experience in various projects in international companies? Of course, it's up to you to hire them or not, but now we will try to show you why choosing them is a great idea.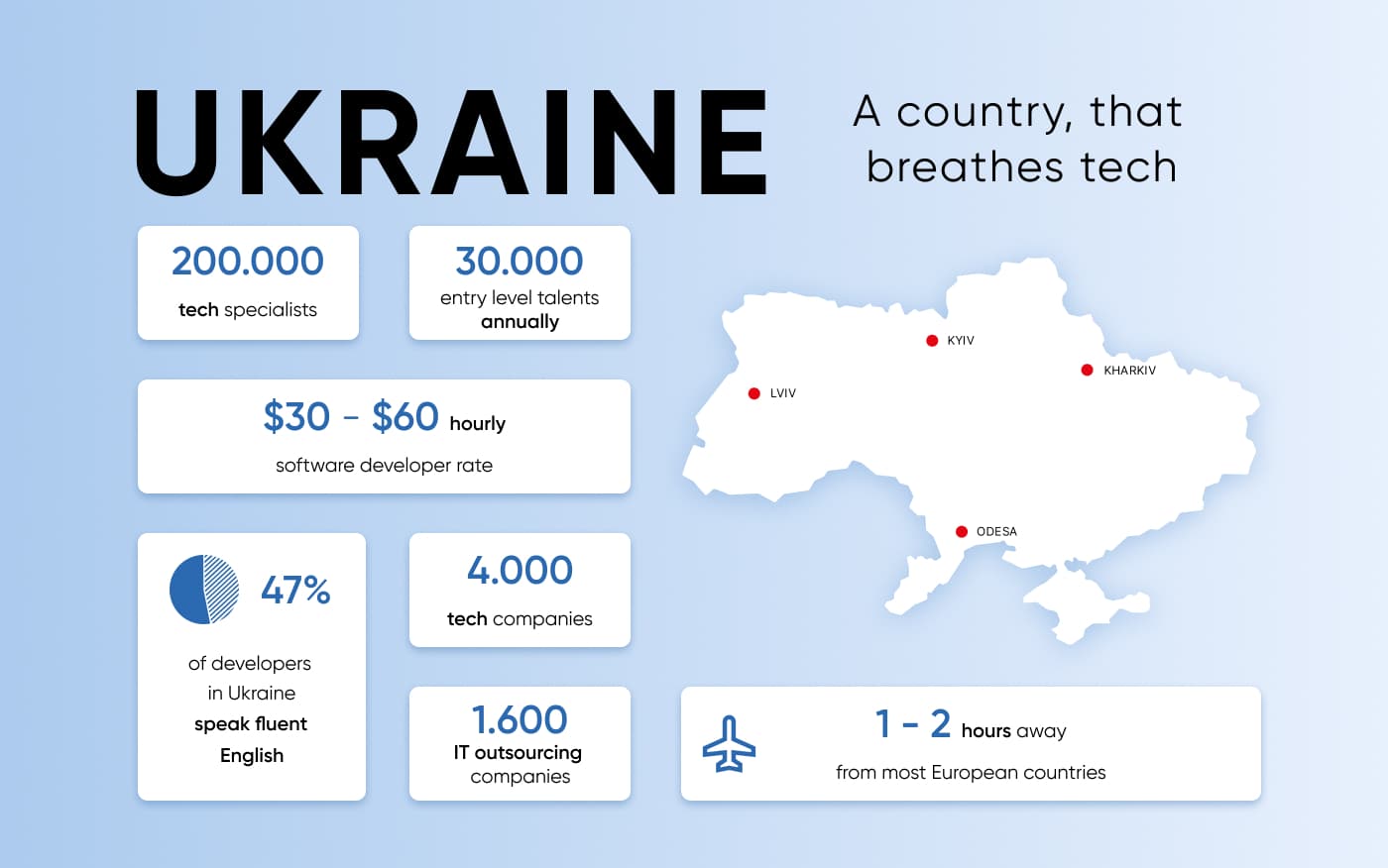 Top 10 causes to hire a developer from Ukraine
In Ukraine, now there are about 285,000 developers and more than 4,000 tech companies. At the same time, Ukraine is supposed to be one of the best countries to hire IT specialists. All the signs suggest the great potential of Ukraine as a market for IT outsourcing. And this potential has hardly changed, even despite the large-scale military invasion of Russia in February 2022. The Ukrainian IT market is growing by at least 20% annually, so it is very profitable for technology companies to build their IT business here. They receive many benefits from loyal legislation, ease of accounting and tax incentives. Now we will consider in detail the main advantages of Ukrainian developers.
High technical level. For many years, the world's leading research agencies have called Ukraine one of the countries with the best developers. Thus, according to the SkillValue 2021 report, Ukrainian programmers are ranked 5th with an average of 93.17% and 4th in the European market.
Fast-growing employee pool. The IT industry in Ukraine is growing by leaps and bounds, providing a brilliant opportunity to hire technical professionals. In 2021, the number of developers in Ukraine significantly increased. At the same time, Ukraine ranks 1st in the world in terms of the number of Unity3D game developers and C++ engineers, as well as 2nd in terms of the number of JavaScript, Scala and Magento developers. It should also be added that the demand for highly skilled talent in React Native development exceeds the supply. It creates an impressive shortage in the market. In Ukraine, there are the best React Native programmers, which allows our clients to be ahead.
Best value for money. The main reason the company executives use IT outsourcing services in Ukraine is the salaries of local developers. The average hourly rate for a software developer is $25 to 50, and the average wage per month is $1,400 to 3,300 (excluding taxes and social contributions). These rates are more competitive compared with Eastern European countries and much lower than in Western Europe and North America, where a professional developer can get about $100 per hour, or $150,000-500,000 a year.
40 working hours a week. Many employees in Ukrainian outsourcing enterprises spend 40 to 60 hours per week at work. It is more than the usual programmer in the US (37.5 hours) and significantly more than the typical developer in Germany (33 hours) or the UK (36 hours). In addition, in Ukraine, there exist only 11 paid public holidays, while in other countries of Eastern Europe (Romania, Hungary and others), there are at least 13 of them and Bulgaria has 19 altogether.
Constant IT market growth. Ukrainian IT is growing by 20-30% annually, demonstrating stable development and industry trends. Thus, the number of IT companies in the country has grown to 5,000 by the end of 2021. The IT export turnover increased to $6.8 billion. At the same time, it is predicted that the market will continue to expand fast by an impressive 16-25% per year. Despite the Russian military offensive, the IT direction turned out to be the most stable sector of the Ukrainian economy.
Ukrainians are true geeks. The IT developers in Ukraine reveal splendid interest in everything related to the IT industry. Over 75% are passionate about what they do at work. It suggests that Ukrainian developers are geeks motivated by their job. At the same time, most of them comprehend several programming languages ​​and understand such innovative technologies as blockchain, cryptocurrency, NFT, artificial intelligence and DNN, virtual and augmented reality, big data, and more.
Good command of English. Another significant benefit of developers from Ukraine is their excellent English knowledge. About 85% of Ukrainian IT specialists in outsourcing speak Intermediate or higher level of English proficiency, and 50% have Upper-Intermediate or Advanced. Moreover, it is not a developers' initiative but a deliberate policy of local software development and IT outsourcing companies: most of them suggest free English classes to their workers.
Ability to learn. Even though 75% of programmers in Ukraine have higher education, 6.3% have two higher education, and 1.5% have the Sc.D degree in engineering sciences. More than 85% of developers in the country regularly take various classes to obtain new skills or upgrade the previous. They attend seminars, lectures and partake in professional offline and online events.
Business environment. The Ukrainian IT community is active and well-knit. In many cities, an IT cluster unites developers, schools, companies and municipal authorities to expand the industry. At the same time, specialized meetups are held in the country every day so that the curious specialists always have the chance to spend their leisure persuasively.
Time zone. The time zone of Ukraine is 1-2 hours earlier than European countries. So that European customers can comfortably work and communicate with Ukrainian programmers without changing their work timetables. And if the clients are in the USA, Canada, Japan or Australia, they can also reach the development group at the best time for the client, as Ukrainian teams adapt to their client's plans and schedule.
How did the war affect the IT recruitment market in Ukraine?
What about employment? Despite this terrible war, the IT sector in Ukraine could recover and reach a usual work level quickly. According to a survey of the country's largest IT service providers, 90% of their workers returned to their regular working hours within a month. The same applies to all employees of SDA company. We are working with the same productivity as before the large-scale Russian military aggression on Ukraine in February.
What about salaries? In the longer term, for Ukrainian programmers, nothing has changed since their wages are pegged to the dollar. As it was relatively small in comparison with the US and Western Europe, it has remained so.
What about orders? In March, some Ukrainian IT companies had trouble placing new projects and fulfilling old ones, but we diligently continued our work and did not have such concerns. Now the situation is even better. Many customers from the EU and the US want to support Ukraine. Therefore, when choosing a technical partner, they hire our company.
Among our clients, we do not see a fear of war and risks. It is because we have well-established processes. Immediately after the beginning of a full-scale war, we got in touch with customers and told them in detail about our plans, following actions and organization of work. We suppose that is why they do not have much fear of working with us at this time. Some new clients ask us to hire our people for their projects because they are sure this is a great way to support us. Our company works openly. All our employees are officially hired, and we pay all taxes, thus helping Ukraine.
Despite the crisis and inflation in Ukraine, our company has not raised prices yet, and almost none of our customers have stopped cooperation with Ukrainian development companies. Regardless of the difficulties associated with hostilities, Ukraine remains one of the best countries for outsourcing IT services due to the best price-quality ratio, the high diligence of local specialists and an enormous employee pool, which is rapidly growing regularly. Feel free to contact us for more detailed information.